Main content starts here, tab to start navigating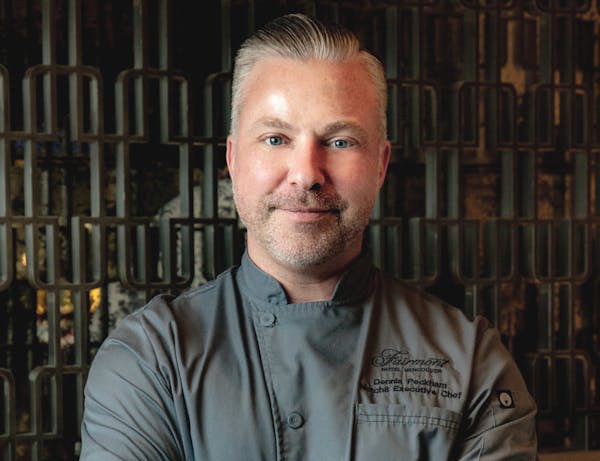 Dennis Peckham
Executive Sous Chef
Leading the kitchen in Notch8 Restaurant & Bar at Fairmont Hotel Vancouver is no small undertaking. The restaurant's doors stay open 365 days a year, serving four different meal periods daily to guests from around the globe. Dennis Peckham rose to the challenge becoming Notch8's Executive Chef in May 2019, and in December 2020 became Fairmont Hotel Vancouver's Executive Sous Chef.
Growing up in Williams Lake, Dennis' first introduction to the culinary world was through the café his father owned. However, as a young man, his attention was focused on playing hockey rather than behind the counter learning the business. Having graduated high school, (though he notes that he failed home economics because he only attended on cooking days), and looking for a job, he happened to take a role as a dishwasher in a local restaurant. The connection to the comradery and culture of kitchen life was instantaneous, and in turn, Dennis made the decision to relocate to Vancouver, BC, to attend Dubrulle Culinary Institute, later graduating in 2001. In the years that followed, his talent and tireless dedication would pay off, seeing his dream play out in the kitchen of Vancouver's Lumiere Restaurant (Mobil Five Star), at Thomas Keller's California restaurant The French Laundry (Michelin Three Star) as the Chef de Partie in 2004, and even on television screens as a winning contestant on Food Network's Chopped Canada in 2016, and as a competitor on the same network's Top Chef Canada in 2019. Dennis was also previously with Fairmont Hotels & Resorts as Executive Restaurant Chef at Fairmont Waterfront in Vancouver, before finding his new home at Notch8.
The chef credits his successful career to the line chefs he's worked shoulder-to-shoulder with over the years. "When you're on the line with someone, you see how they approach their craft", says Dennis. "You have a shared passion, and everyone has different backgrounds, so you end up learning everything from making the perfect pasta dough to the fastest way to break down a whole pig."
When he's not in the kitchen, you can find Dennis at the rink playing rec hockey, or on a walk at the lake with his two year old Doberman Pinscher, MacGyver. Working out and healthy living are integral parts of his life, having trained for and competed in fitness competitions for the past three years.