Banana Bread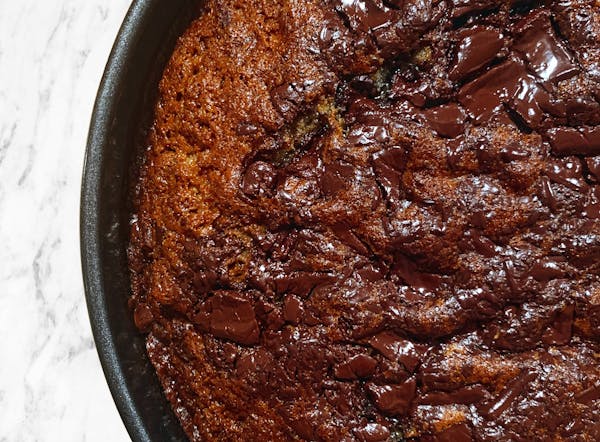 Yield: 1 loaf
Prep time - 20 minutes
Rest time - 1 hour
Cook time - 1 hour
Cool time - 10 minutes
Ingredients:
1 cup sugar
1/2 cup unsalted butter
2 large eggs
1 1/2 cups unbleached all-purpose flour
1 teaspoon baking soda
1 teaspoon kosher salt
1 cup mashed very ripe bananas
1/2 cup 2% milk
1 teaspoon pure vanilla extract
1/2 cup chopped walnuts or pecans
1/2 cup chopped chocolate
Directions:

1. Butter a 9" x 5" x 3" loaf pan; set aside.
2. Using an electric mixer (fitted with the paddle attachment, if possible), cream butter and sugar until light and fluffy. Add eggs and beat to incorporate. Add bananas, milk, and vanilla; mix to combine.
3. In a medium bowl, whisk together flour, baking soda, and salt. Add to the wet ingredients mixture and mix until just combined. Stir in nuts and chocolate, and let rest at room temperature for one hour.
4. Preheat oven to 350 degrees.
5. After resting, pour into prepared pan and bake until a toothpick inserted into the centre of the cake comes out clean, about 60 - 70 minutes.
6. Let rest in pan for 10 minutes, then turn out onto a rack to cool.
If you have any questions, feel free to send us a direct message on instagram @fairmontvan and we'll be sure to answer it for you.