Banana & Chocolate Bread Pudding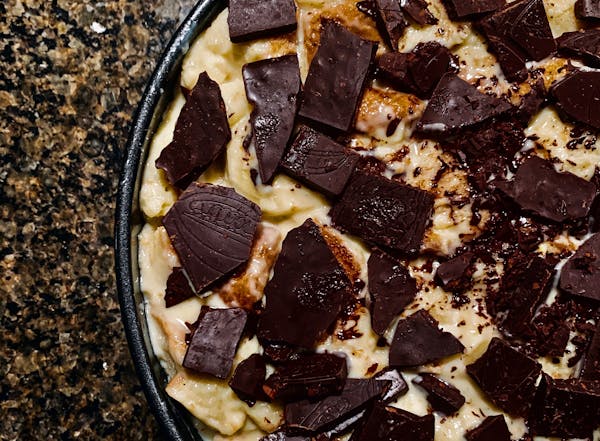 Yield: 10 servings
Prep time: 25 minutes
Cook time: 50 minutes
Ingredients:
2 tbsp unsalted butter, softened, for baking dish
12 ounces brioche cut into 1-inch cubes (or any bread of your liking)
2 cups milk
3 cups heavy cream
5 large eggs, plus 2 large egg yolks
1 cup sugar
1/2 tsp salt
1 tbsp pure vanilla extract
1/4 cup chopped chocolate of your choosing
1/2 cup diced banana
Directions:
1. Preheat oven to 350 degrees.
2. Butter a 9-by-13-inch baking dish; set aside.
3. Put bread cubes in a large mixing bowl; set aside.
4. In a medium saucepan, over medium-high heat, heat milk and cream until just about to simmer; remove from heat.
5. In separate mixing bowl, whisk together eggs, yolks, sugar, salt and vanilla.
6. Whisking egg mixture constantly, slowly add warm cream mixture in a steady stream until incorporated. Pour mixture over bread; fold in banana to combine, and let stand 30 minutes, tossing and pressing occasionally to submerge bread.
7. With a slotted spoon, transfer bread to buttered baking dish; pour liquid in bowl over top. Using a spoon, turn the top layer of bread crust side up
8. Top the mixture with chopped chocolate.
9. Set dish in a roasting pan; transfer to oven. Pour boiling water into pan to reach about halfway up sides of baking dish.
10. Bake until golden brown, about 50 minutes. Let baking dish cool on a rack 10 to 20 minutes.
11. Can be served with whipped cream or dolce de leche.
If you have any questions, feel free to send us a direct message on instagram @fairmontvan and we'll be sure to answer it for you.