Vegan Chickpea Curry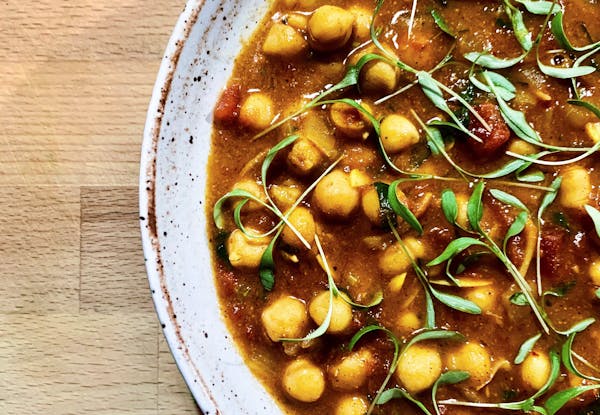 Chickpeas are a favourite of Chef Peckham's - they're super clean to eat and high in protein. This curry recipe is packed full of flavour, quick to put together, and only uses a few ingredients.

Yield: 4 servings
Time: about 1 hour
Ingredients:
1/2 cup coconut oil
2 cups finely chopped onions
3 tbsp finely chopped garlic
2 tbsp chopped ginger
3-inch stick of cinnamon
1 tbsp salt
1/2 tsp ground black pepper
2 tsp turmeric
2 tbsp ground cumin
2 tbsp ground coriander
2 tbsp garam masala
1 tsp ground cayenne pepper
2 cups chopped tomatoes (2 large, or one 28-ounce can, drained)
2 cups drained chickpeas
2 cups water
1/2 cup chopped cilantro (including stems)
Directions:
1. Heat your coconut oil over high heat, until it just starts to smoke.
2. Add in your onions, ginger and garlic. Sauté on medium heat, stirring frequently until they start to caramelize. Takes approximately 6-7 minutes.
3. Add in your spices, and toast them off with the onions on low heat for approximately 3-4 minutes. Make sure you stir constantly, to ensure the spices don't burn.
4. Add in your tomatoes and be sure to use them to scrape all of the spices off the bottom of the pot.
5. Once your tomatoes have come to a simmer, cook for approximately 5 minutes until the oil starts to separate from the mixture.
6. Add in your chickpeas and water, and simmer for about 45 minutes, or until you've reached the desired consistency.
7. Add in your chopped cilantro, stems included.
8. Adjust season with salt and pepper.
9. Store in the fridge until ready to use. No longer than 7 days.
If you have any questions, feel free to send us a direct message on instagram @fairmontvan and we'll be sure to answer it for you.