No-Flour Sweet Potato Brownies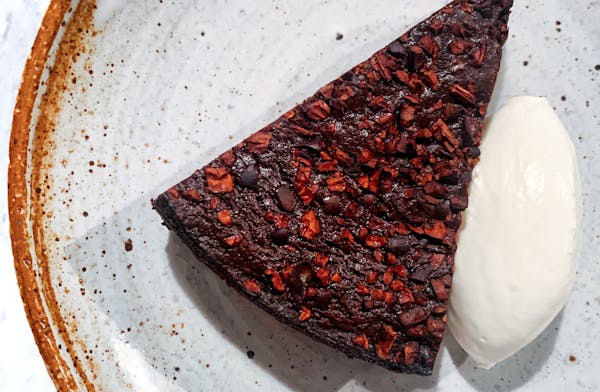 Servings: 9 brownies
Prep Time: 20 minutes
Bake Time: 48 to 52 minutes
Cool Time: 15 - 20 minutes
Ingredients
2 cup sweet potato (about 2 or 3), mashed
6 oz bittersweet chocolate, chopped
1/2 cup coconut oil
1/2 cup cocoa powder
1 tsp baking soda
1 tsp salt
4 large eggs
1.5 cup brown sugar
2 tsp vanilla extract
1/2 cup chocolate chips

Directions
1. Pierce the sweet potatoes with a fork and microwave on high for 8-10 minutes until soft. Set aside to cool slightly and mash with a fork until smooth.
2. Preheat the oven to 350°F. Line and grease a 10-12inch spring form pan.
3. Melt the bittersweet chocolate and coconut oil together, either in a double boiler or in the microwave, making sure to stir every 30 seconds. Set aside to cool.
4. In a medium bowl, sift together the cocoa powder, baking soda and salt.
5. In separate mixing bowl, beat the eggs and brown sugar for about 5 minutes until lighter in colour and viscous.
6. On low speed, pour chocolate and coconut oil mixture and the cocoa powder mixture. Add the sweet potato and vanilla extract and beat on medium speed until well combined. Fold in the chocolate chips.
7. Pour batter into the prepared pan, smooth out the top and bake for 48 to 52 minutes, until a toothpick inserted comes out mostly clean.
8. Let the brownies cool in the pan for 15 to 20 minutes. Transfer to a wire rack and cool completely before slicing.