Fresh Tomato and Fennel Pasta Sauce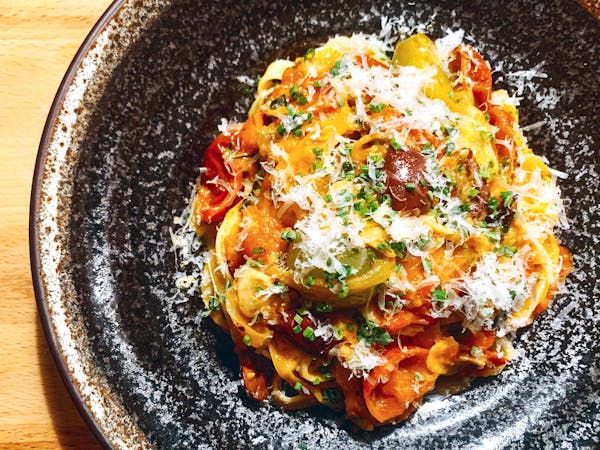 Yield: 4 servings
Prep time: 15 minutes
Cook time: 20 minutes
Ingredients:
3 cups cherry tomatoes cut in half
1/2 head of fennel shaved or thinly sliced
2 tbsp garlic shaved or thinly sliced
2 tbsp shallots shaved or thinly sliced
1/2 cup white wine
3 tbsp pitted olives
1/4 cup olive oil
1 lemon
salt and pepper to taste
1/4 cup packed fresh basil leaves or 1 tbsp dried basil
2 tbsp minced chives
cooked pasta of your choice
Directions:
1. In a saucepan on medium heat, sauté garlic and shallots in 1 tbsp of olive oil until they start to slightly brown.
2. Add in fennel, sautéing until slightly browned.
3. Add in tomatoes and continue to cook on low heat for approximately 5-7 minutes, or until the liquid in the pan is evaporated.
4. Add in white wine and continue to cook on low heat for another 5 minutes until evaporated.
5. Add in olive oil and olives, stir until incorporated.
6. Season with salt, pepper, and zest of lemon to your liking.
7. Add herbs just before adding in your cooked pasta to toss.
8. Portion onto four plates, and enjoy!
If you have any questions, feel free to send us a direct message on instagram @fairmontvan and we'll be sure to answer it for you.